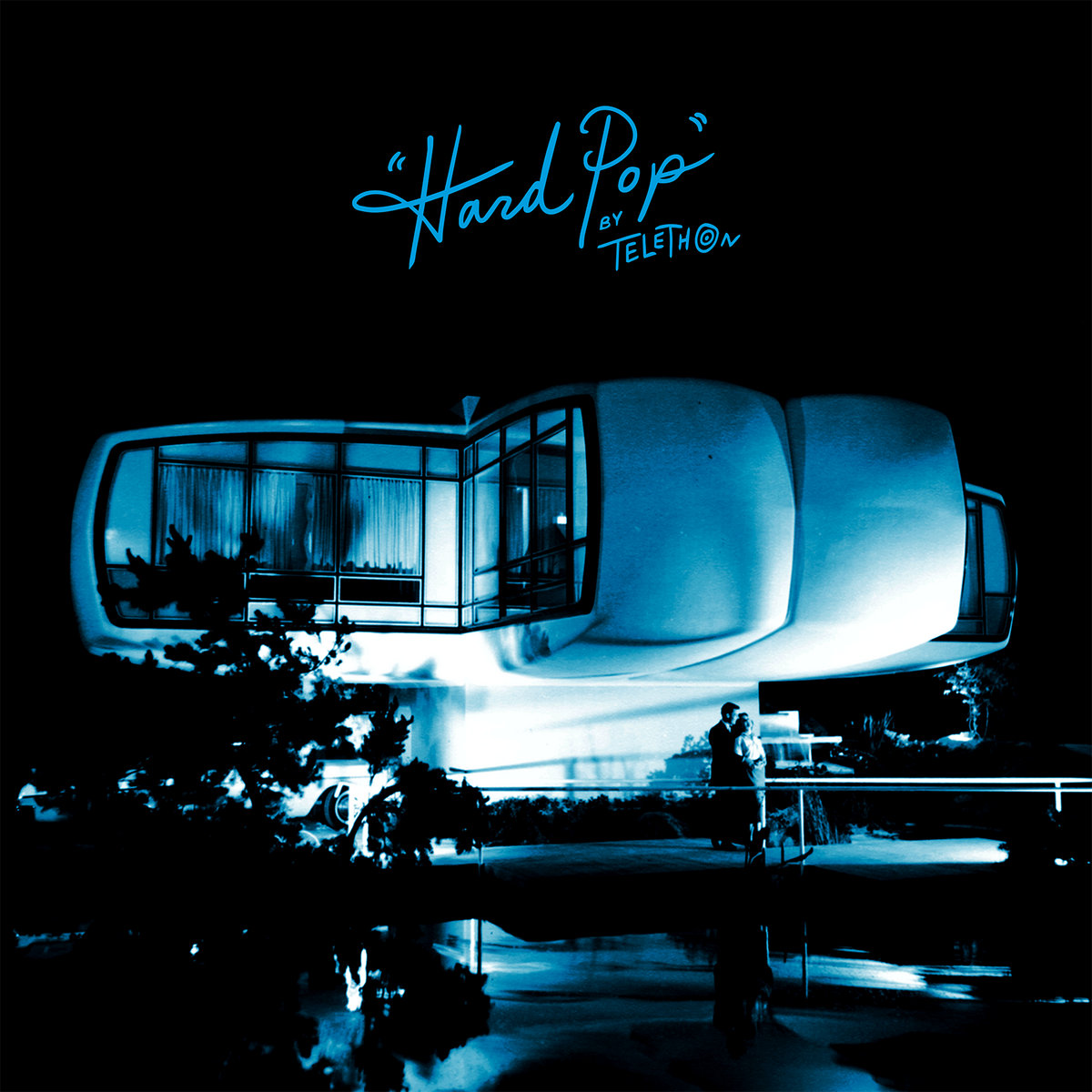 It's been a longtime since there's been a pure, feelgood rock record that's really offered to dominate the summer.  That's not to say that there haven't been great rock records released in the summer, but none are quite as catchy or uplifting as Telethon's Hard Pop.  The Midwestern band is equal parts Green Day, Jeff Rosenstock, and Van Halen-ambitious, experimental, and shredding.
What's most striking about the record, Telethon's fourth, is how thoughtful it is while also being unbelievably catchy.  Kevin Tully often sings at a mile a minute and jam packs his verses with clever and interesting lyrics.  He's complimented most by lead guitarist, Jack Sibilski whose riffs are crisp, clear and reminiscent of Thin Lizzy.  Hard Pop is such an appropriate name, as they really embrace a hard rock tone while making generally upbeat pop-rock.  You could call it power-pop, but power-pop doesn't shred like this.  You can hear it in the 60's swing of "(I Guess You'd Call It) An Undertone," a song that has big horns, a catchy chorus, and some tasty solos.  The scope of the band's point of view is evidenced in their first track, the double song "Loser/That Old Private Hell," what begins as an acoustic ballad, quickly switches to a pop-punk romp that sounds straight out of American Pie.  The message also is reminiscent of the coming of age film, as Tully sings, "Being a loser's a gift, though it don't seem like it now."  Of course, this level of attention to detail should come as no surprise to anyone familiar with the band's 90-minute rock opera The Grand Spontanean.  Telethon bring in a number of sounds throughout the record's short (for them) length.  "Chimney Rock" is synth-driven punk reminiscent of The Ergs; "Manila" starts as a ballad worthy of a musical before finding it's way 90's ska.  There's rarely a moment where your attention isn't held.
What does make Telethon so listenable is  the way that Tully can turn a phrase.  I consistently return to the almost rushed delivery of "Fake it til you make it so they leave you alone" in "Chimney Rock," but Hard Pop is loaded with these interesting.  He's also incredibly descriptive.  See the opening lines of "An Undertone:"
Let me set the scene 
In lieu of the corkboard; the photos connected by string 
I'll explain 
But give me a sec for finessing the mess in my brain 
It's developing news 
It's a skin being shed you could say i outgrew 
These street lamps glow with an iridescent green 
Only seen by the shadows in the know 
Part of this is Tully's poetics, but also the relatable nature of his voice.  He's a great singer, but he also dips into various timbres where he could also sound like your friend singing along to the radio on the way to go get pizza.  "Youdon'tinspiremelikeyouusedto's" chorus does this to great effect, as he does his best impression of someone like John Fogerty or Bruce Springsteen over an energetic jam with lines like:
"Take more time out to note all the victories" 
Yeah, but doc, imagine moving to the beach! 
I don't mean actually on the beach, 
But somewhere there's ocean, at least, nearby 
What a life that could be" 
The envy of my former colleagues 
Pictures of sunsets from branches of palm trees 
Highways'd part on sight of the RV 
I live in, what's the limit? 
While it's hard to tell these things, pop-punk is in an excellent spot for genre-stretching and power-pop inspired artists, and Hard Pop is entirely a product of some passionate members of the community who are taking advantage of an open-minded community.  Telethon will make you mosh, dance, and singalong.  Where Jeff Rosenstock flipped punk on it's head with Worry, Telethon have found a way to pack another hundred miles and thousand words into the expanding chasm.  We can only hope that more artists will follow Telethon's influence and not be afraid to make Hard Pop.