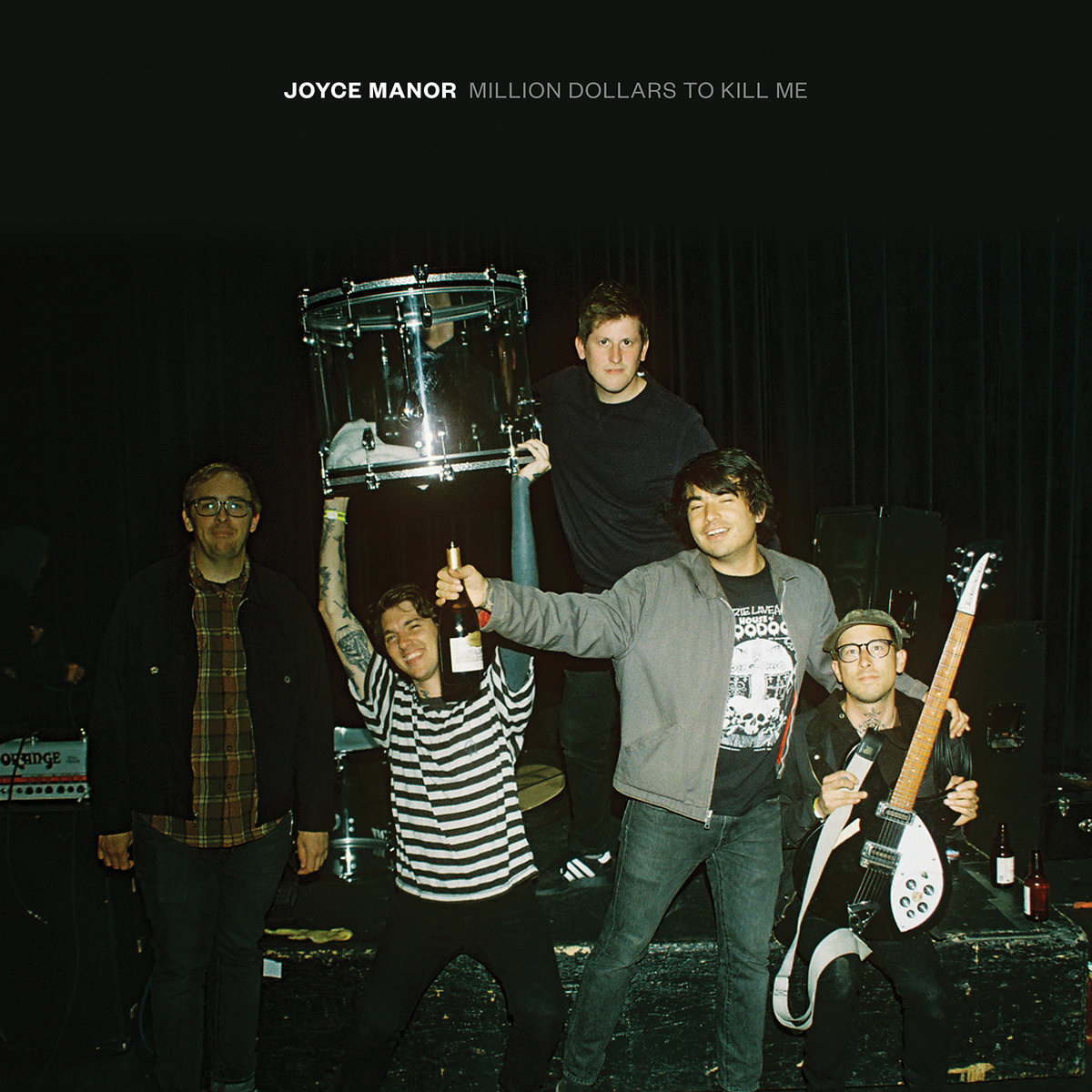 Joyce Manor's 2016 album Cody showed a band that was willing to take a step away from the abrasive, no bullshit pop-punk that they'd perfected into a band with similar ethics but making more power-pop inspired indie rock.  Sure, there were still pop-punk bangers like "Fake I.D." and "Reversing Machine," but songs like "Eighteen" or "This Song Is A Mess But So Am I" fell more into a sort of Blue Album worship in crafting great pop-savvy indie rock.  Million Dollars to Kill Me doesn't feel like a continuation of Cody nor does it feel like it's picking up after Never Hungover Again; it sounds like a band that is truly without a care and is making whatever the hell it wants.
There's little to think about in terms of for Million Dollars to Kill Me besides to say that it's a punk record.  In reality, it runs more like a label's fall sampler comp.  Barry Johnson's voice is the only real through line of the record, and even that doesn't seem fair as he adventures more than he ever has before.  The band touches on 60's pop and soft rock with "Wildflowers" and "Silly Games." Both also have the same sort of vagueness that make those songs so enjoyable.  Johnson sounds sweet and sincere, while singing to a child in "Silly Games," but he leans into his Morrissey inspiration a little in "Wildflowers," a somewhat melodramatic soft song about laying in bed depressed.
Other tracks see the band steering toward the golden-age of pop-punk.  "Friends We Met Online" sounds like it came right off of a Tony Hawk Pro Skater soundtrack, and it's a track about how sometimes the people you connect with online can be some of the most meaningful friendships.  It sounds like the sort of song that I would've put on when I was going on a Runescape-binge.  "I'm Not the One" also sounds like an acoustic version of an All Time Low song, but Johnson also takes a long hard look at the super wealthy, even if they try to do good.  Despite his calm demeanor, Johnson is critical and cynical:
Trying to decide who's good and who's just rich
Took all of his money, and she burned it in a ditch.
Nonetheless, there's plenty of songs on here that fall within range of Cody or Never Hungover Again.  The title track is a power-pop ode to a love interest that's too good for the narrator.  Sonically, it's pure Joyce Manor, but it's all Tom Petty's "Free Fallin'" and the Mountain Goats' "Autoclave" in terms of ~vibes~.  Interestingly, there is an undeserved love theme that runs through the album.  It would be unfair to call Million Dollars to Kill Me a breakup album, but it is complicated look at romance.  "Fighting Kangaroo" examines some of the habits and outlooks that could lead to a breakup in a tone that mimics pre-NHA Joyce Manor.  Johnson alludes to the fact that he may not necessarily be the most pleasant person to date on a number of songs.  Starting with the "Girls can be kind of controlling/I wanna be controlled," a questionable outlook on romantic pursuits, Johnson explores his insecurities and less desirable qualities.  "Up the Punx" sees Johnson reference some "Brokenhearted online cheating."  Still, sometimes it seems like it's just the actual pain that comes with watching a relationship end.  "Big Lie" culminates with the lines:
If you get anxious, I'll put on "Morning, Morning" for you.
So overstated, we're never in the moment now.
"Think I'm Still in Love With You," one of the album's longer songs, seems like the album's mission-statement.  Sometimes, the unresolved romantic feelings can pre-occupy every facet of your life.
While the rollicking punk songs seem to tell the actual story of the end of the relationship, the more experimental songs show the pain leaking into the other areas of life.  In the two years since Cody was released, it seems Joyce Manor have come to terms more with themselves as a band.  Million Dollars to Kill Me is unabashedly vulnerable and fearless.