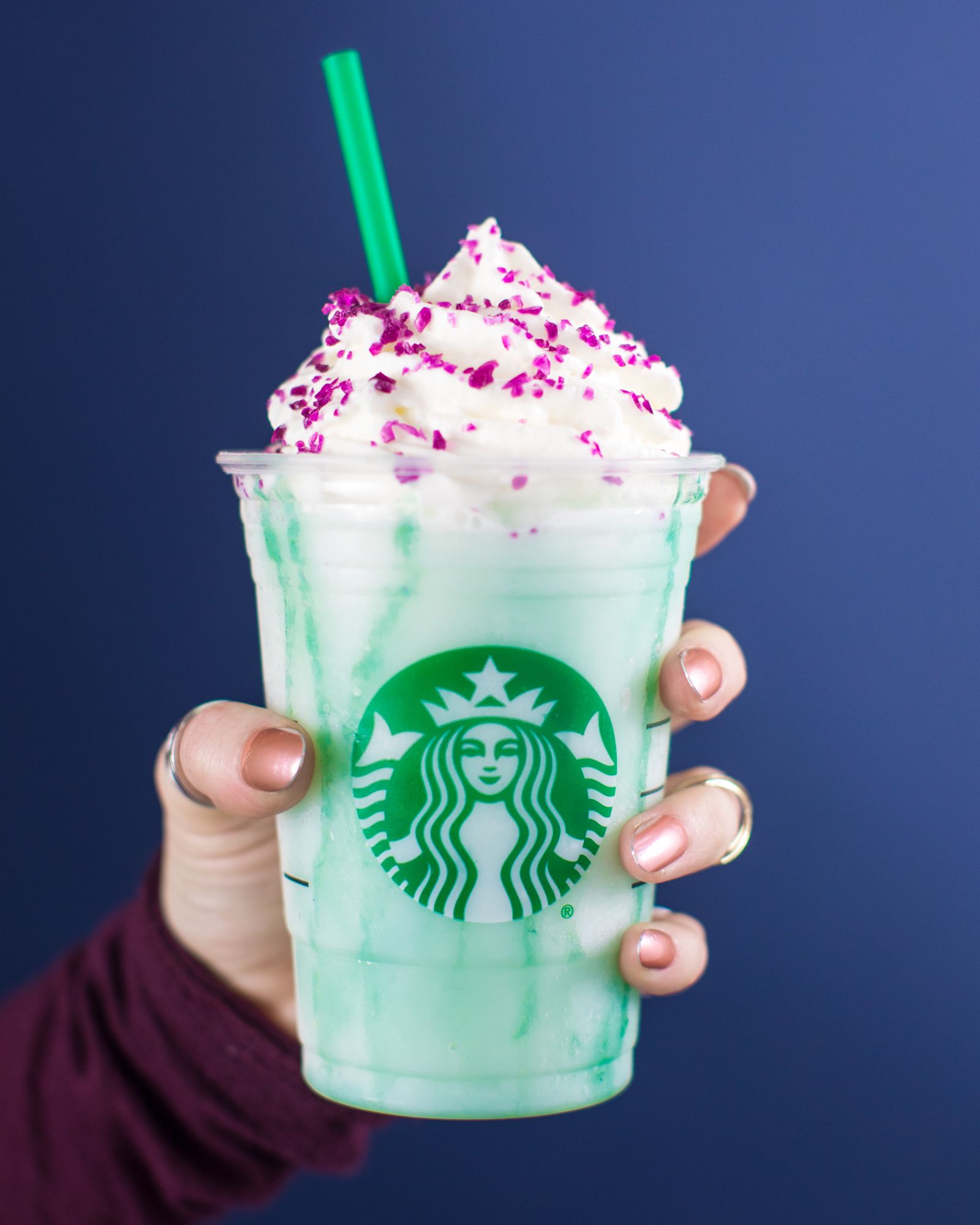 Coffee Date is back! Coffee Date is a column where we cover coffee and tea trends.  This week we're covering The Crystal Ball Frappuccino from Starbucks.
Those Starbucks guys are marketing geniuses.  They can pump out crappy, sugar-loaded Frappuccinos every few months, and they sell like crazy.  When I remember to, I try them, but I'm always disappointed.  Marketing stunts like The Crystal Ball Frappuccino act as a reminder to a bizarre sense of curiosity and brand loyalty.
First thing to remember with Starbucks is that it's the McDonalds of coffee.  The Crystal Ball Frap (or Unicorn or Zombie Fraps) are sort of like Shamrock Shakes or the Monopoly promo.  They come around for a short time every year to con children and naïve people into thinking it's worth the trip to their local fast food establishment.  The funny thing is it works.  I was in a Starbucks two weeks ago, and I heard a kid ask for a Unicorn Frap.  The only difference is that McDonalds relies on traditional marketing, and Starbucks can lean on viral marketing.
The only difference between Starbucks and massive burger chains like McDonalds and Burger King is that it pretends it's pretty.  The Starbucks aesthetic is crisp and clean.  No matter what, they look great in photos.  A friend of mine didn't remind me of the frap, because she thought I would like its taste.  She told me it would look great on my Instagram, and she was right.  It's hard to not look at any frap and resist its delicious milkshake-like appearance.  Throw in some bright colors, and you've got something to keep a kid mesmerized.  Are we surprised children ate Tide Pods?  They look like Frappuccino potato chips.  We're all just overgrown children too.  We all see bright colors, and think "I WANT IT!"  We barely care how it tastes; we just want to say we had it.
I guess in the end this all comes down to taste though, right?  The Crystal Ball Frap has a creamy peach flavor, and it's not nearly as obnoxious as something like the Unicorn Frap, but it's still overwhelming.  There's definitely more vanilla to balance it, or it may have just been my choice to use non-fat milk.  The crystal sugar on the top is just that-pure, crystalized sugar.  This isn't something for adults.  It's often joked that no fraps are, but the classic fraps are balanced enough that they satiate a craving or a sweet tooth.  The sugared up peach is just empty.  It just makes you further aware that you're drinking the McDonalds of coffee.
The largest question I have to ask in the wrap up is how Starbucks determines these themes.  The Zombie Frap suited, because it was Halloween, but Crystal Ball and Unicorn both seem completely random.  The color schemes are reminiscent of their respective themes, I guess.  As terrible as these are, Starbucks should start getting things like Hollywood franchises to sponsor these.  This would've been a great Hulk Frap in conjunction with The Avengers: Infinity Wars coming out, and I'd be more inclined to buy in the future.