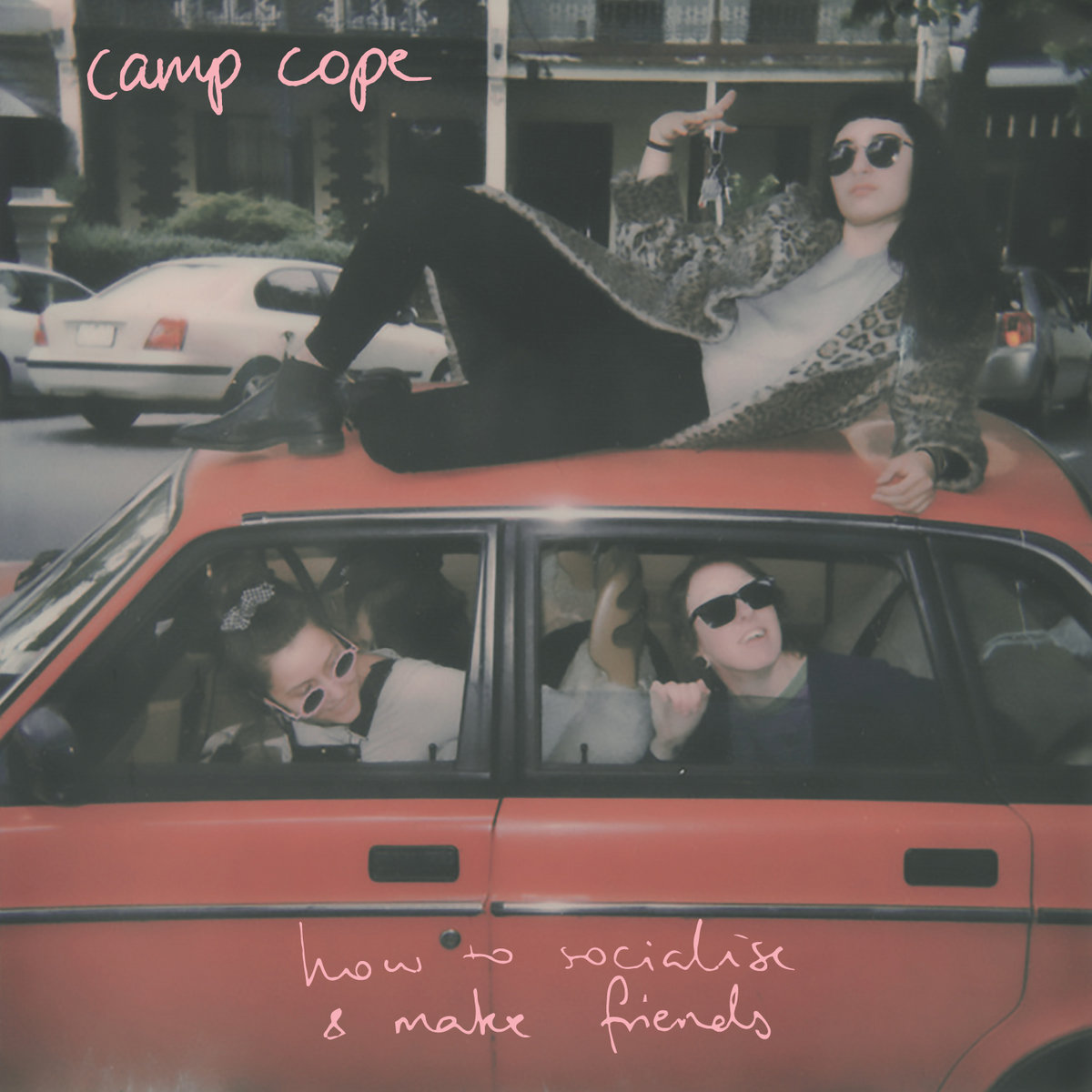 Camp Cope has positioned themselves as a hyper-political pop-punk band that will fight against sexism, gun rights, sexual abuse, and so much more, but the Australian trio is so much more than that.  While Camp Cope utilize their platform to speak about equality and representation, their best songs are deeply personal.  The band writes numbers that rage and songs that can let your entire world break around you, and How to Socialise & Make Friends really makes way for both of those worlds.
Where Camp Cope's self-titled debut was filled with throttling pop-punk, most of How to focuses on stripping things back and creating more swelling folk-influenced punk ballads.  They still can rip a heart-pounding tune when they need.  Kelly Thomson-Hellmrich's bass takes the forefront with her playing most of the instrumental melodies on takes like "UFO Lighter" or "The Opener," but Georgia Maq tends to lie on cleaner guitar tones, placing more focus on her lyrics and throaty, passionate vocals.  The louder songs tend to be a little bit more politicized like "The Opener" and the title track, the former rallies against sexism that runs rampant in the music industry and the punk scene.  It's especially eye-opening for a scene that sets itself in equal values but is still white, straight male dominated.  It's a burn when Maq sings, "It's another all-male tour, preaching equality."  In "How to Socialise & Make Friends," Maq narrates a memory of a scumbag that tends to hit on high school age girls or younger.  It's about blowing someone like that off and not feeling sympathy for someone's predatory behavior, no matter what excuses they have.  The album is often empowering, and it's mainly seen as a call to action to confront everything that hurts.
The moments that tend to become most interesting throughout How to are when Maq dives into her real life.  "The Face of God" is incredibly pertinent, as the Me Too movement continues.  Maq sounds absolutely broken in the song that calls victim-blaming to attention:
               "And I saw it, the face of god,

And he turned himself away from me

And said, 'I did something wrong'

That somehow what happened to me was my fault."
Maq's voice is full but broken when she sings that last line.  She's fearless, especially when confronting the all-to-common excuse of "Your music is too good."  In an interview with Pitchfork, Maq stated that this song came from personal experience and with all allegations coming out against those like Brand new or would be-tourmates Turnover, this is speaking out even more.
Camp Cope's never ceases to be moving.  On first listen, "The Face of God" moved me to tears, and tracks like "Animal & Real" and "I've Got You" evoke similar emotions.  Whether it's Georgia Maq's consistent reassurance of "This makes me feel better" or the eulogy Maq wrote for her father, this isn't an easy listening album.  Camp Cope lures the listener in with political diatribes, but they deliver an overwhelming amount of emotion on a short record.  It's hard not to get fired up, feel sad, then need a break after.  It's a reminder of how so many of us have been feeling for the past fifteen months, but we still need to live, while fighting, and sometimes, life comes up.  The touching tribute of "I've Got You" is an ode to both someone very important to Maq, but also a tribute to someone that taught Maq so many of the ideologies she still works towards.  When Maq closes the album saying, "Alright, I'm done," it sounds like she's going to go take a break, and it's well-deserved.