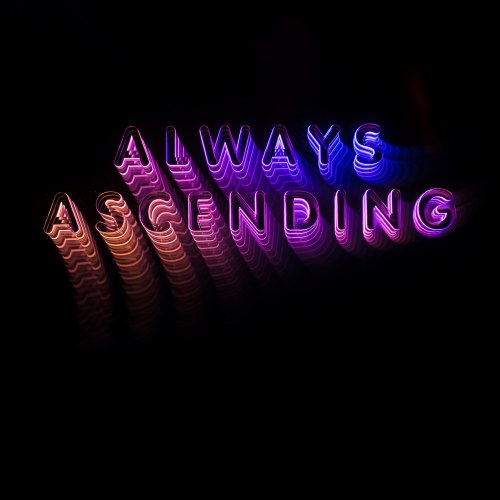 Franz Ferdinand's latest album Always Ascending has a great recipe to become a fan favorite. Franz Ferdinand has been on the scene for over 15 years since their creation back in 2002 and their first self-titled album in 2004. In classic Franz Ferdinand fashion, they made fans wait for this album. It's been a long five years (sans a Sparks collaboration), but it was well worth the wait.
The title track, first single and first track, "Always Ascending" feels space age. In an era where technology is catapulting us further and further it feels fresh and modern. It gets you to the edge of your seat as the ambient sounds engulf the piano and later the guitar. The lyrics follow the repeating maze of any great Franz Ferdinand song, with a few words changing between the verses.  The steady beat of "Lazy Boy" brings your feet back to earth and is all rock and roll. It follows the steady beats of songs past like "Ulysses". They stay in this sound as track three, "Paper Cages" starts off with strong vocals that are gradually backed up by guitar, then drums and as the first verses closes the piano comes in as a major player. There's something politically powerful about this track and in this day and age where people are no longer afraid to speak the truth about injustices. With a powerful chorus of "Step out, step out of our cages," Franz Ferdinand captures this new era of accountability we are entering. These sentiments are not baseless, they wrote the song "Demagogue" back in 2016 for 30 Songs, 30 Days compilation for a Trump-free America.
"Finally" starts out slow and moody with quiet drums and bass. As the second chorus begins with "Finally I found my people!" you are transported to the moments in your life when it clicks that you feel like you really belong. And yet after the uplifting moment that last track leaves you in the tone sharply shifts melancholy in "The Academy Award".  While the musicality of this track is very sad, the chorus continues to echo, "And the Academy Award for good times goes to you."  It is an odd pairing that carries into the next track, "Lois Lane", which doesn't contribute much to the album.  "Huck and Jim" lifts the album up and feels like old Franz Ferdinand in the best way possible. This continues to take a political turn as it describes this scene of "drinking 40's" and just hanging out in America. Yet they make the point to say they are going to tell "us" about the NHS and the DSS which are both social service programs in the UK. And while it could be reading too deeply into it, it seems like a well-deserved slap in the face to American politics.
"Glimpse of Love" is a catchy track that delves into capturing the perfect snapshot of being in love. It's got the classic silly lyrics of any great Franz Ferdinand song. My favorite line being, "Off-duty beauty, keeping it real, she's got flawless features, grabs a bite to eat." I think this will be a good live track because of the amount of tempo changes within three minutes. Taking a synth-y turn, the penultimate track is "Feel the Love Go". The beat easily carries the simple yet satisfying lyrics.
The last track, "Slow Don't Kill Me" is a winding, melancholy tune with poetic lyrics. It serves as a good end note to this fantastic album. It feels like a new direction without losing any of their original sound. This album feels fresh as a whole whether through well written contemporary lyrics or new sounds the band is experimenting with. It will be awesome to see how these new songs will feel live on their Spring 2018 US tour!