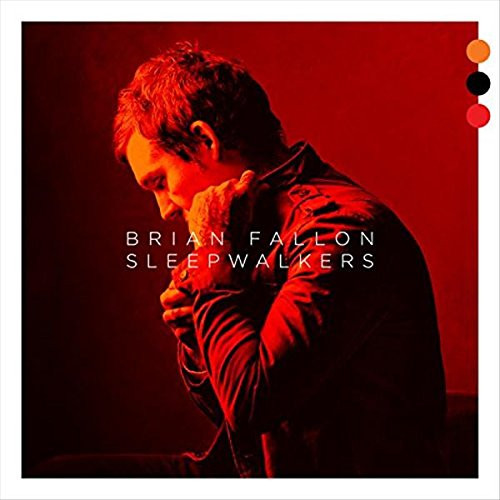 Where Painkillers served to bridge the gap from the crumbling Gaslight Anthem's worst album to Brian Fallon's solo career, Sleepwalkers sees Fallon comfortable in a singer-songwriter role.  His sophomore solo effort marks a massive step up from the previous album.  Fallon leans on the nostalgia that made him a punk celebrity, and the album is a good supplement to The Gaslight Anthem reunion this summer.
Brian Fallon has never hid his adoration for Bruce Springsteen, and some Springsteen tendencies pop up throughout Sleepwalkers, most notably on the title track.  Still, Fallon shows his fondness for sixties pop and folk throughout the album as a whole.  Aside from the light screaming and pop-punk tempo, "Forget Me Not" and "If Your Prayers Don't Get to Heaven" could've come off a jukebox in an ancient diner.  "Proof of Life" is a timeless folk tune, easily transposable to the 70's or the early 2000's.  Fallon also doesn't hide from paying tribute to some of his obvious influences (see: "Etta James").  "Little Nightmares" and "My Name is the Night" have the highest levels of 70's hard rock fetishism with a serious emphasis on loud, heavy riffs, before launching into a Springsteen-esque tune.  Where Painkillers saw Fallon trying to make a really identifiable debut, Sleepwalkers seems more like Fallon making an album for himself, and it makes it that much more enjoyable.
Where Painkillers lacked a distinct piece to latch onto, Sleepwalkers feels a little bit more like classic Gaslight.  Even though the title track feels like it could've been cut from Born to Run, it's not that far removed from The 59 Sound from a lyrical perspective.  "Forget Me Not" is similar, except it really seems like it'll incite a little bit of moshing and finger-pointing .  "Etta James" is a power ballad, but the chorus swells like it's built for an arena.  It's Fallon's honest-to-god attempt at a punk rock love song.  It's a little corny, but it's resonant.  "Her Majesty's Service" is the up-tempo flipside of the same coin.  Only Brian Fallon could sing something like, "I only want to be haunted by you," and make it sound fresh.  As out-of-place as it may seem to hear a record released in 2018 constantly using phrases like "Mama" and "Honey," Fallon doesn't really give a shit.  He grew up on the type of classic rock where those nouns were the norm.  He's a little out of time, but he embraces it like he's not.
While certain Americana tendencies will never leave Brian Fallon, he manages to be at his best when he's not trying to be someone he's not.  While plenty of us are surely glad the Gaslight Anthem are reliving The 59 Sound and hoping for a new album, Fallon's shown that he can stand on his own with Sleepwalkers.